Obagi Blue Peel Scottsdale
Conveniently located to serve Scottsdale
Obagi Controlled Depth Blue Peel
ZO Controlled Depth Peel
Professional Treatment
Peel Strength: Maximal
The ZO Controlled Depth Peel is a robust in-office peel that provides dermal and epidermal stimulation and stabilization for a faster recovery and excellent results. Utilizing a concentration of trichloracetic acid buffered for different skin types, this unique ZO Signature Peel allows physicians to precisely tailor treatment for a range of conditions. The unique peel formula contains a colored base that serves as visual guidance for controlled application over the treatment area based on the patients desired treatment results. The ZO® CONTROLLED DEPTH PEEL™ (A NEW VERSION OF DR. OBAGI'S ORIGINAL CREATION OF THE BLUE PEEL) is very effective for Maximum Skin Tightening and Mild Skin Resurfacing.
When you come in for a consultation we will give you an individualized plan to address specific skin conditions. You will see improvement in:

Acne Scars
Skin firmness
Texture
Hydration
Wrinkles
Fine lines
Pore size
Dark spots, freckles, and sun spots
Injury related scars
Minimizes or eliminates the appearance of melasma
Improves the texture of leathery, sun-damaged skin
Treats acne and post inflammatory hyperpigmentation
Reduces fine lines
tightens lax skin
ZO 3-Step Peel Professional Treatment done in our office
*Individual Results May Vary
Peel Strength: Aggressive
The ZO 3-Step Peel is a potent peel that maximizes texture improvement and produces longer-lasting results than ordinary peels. The first step contains a blend of TCA, salicylic and lactic acids to remove the outer layer of the epidermis. The second step utilizes a 6% retinol crème complex and other agents to help reverse signs of aging. The third step rapidly relieves skin irritation and redness while re-balancing vital moisture content.
Improves skins ability to repair and renew for softer and more even skin tone
Provides powerful antioxidants that help repair skin damage from pollution
Enhances skins natural DNA protection
Boosts collagen for visible firming and wrinkle reduction
Supports barrier restoration
Indications
Acne, skin laxity, sun damage, uneven skin tone and lines/wrinkles
Usage / Frequency
Every 3-4 weeks or until desired results are achieved.
Healing time
5-7 days
---
"The challenge I face in today's fast paced society is to find a skin care program that produces dramatic results without irritation and secondary noncompliance. I have finally found a skin care line, the Obagi System, that meets all of my needs. The Obagi System surpassed all of my expectations."*
— L.O.
*Individual results may vary
---
The Obagi Blue Peel is an innovative process that offers an economical and safe method of controlling the appearance of the aging process. Performed right in the physician's office, this new technique has a healing time of only 7-10 days, and results in tighter, smoother and younger looking skin.*
The Blue Peel can help correct wrinkles, unwanted pigmentation, scars, large pores, and non-facial skin conditions, regardless of age, color or skin type. Using slow acting Trichloracetic Acid mixed with a solution of blue solution,the procedure allows for the removal of thin surface layers of aged and damaged skin. Layers of dead skin cells exfoliate and are replaced by healthier ones, allowing the skin's own clarity and tightness to resurface. *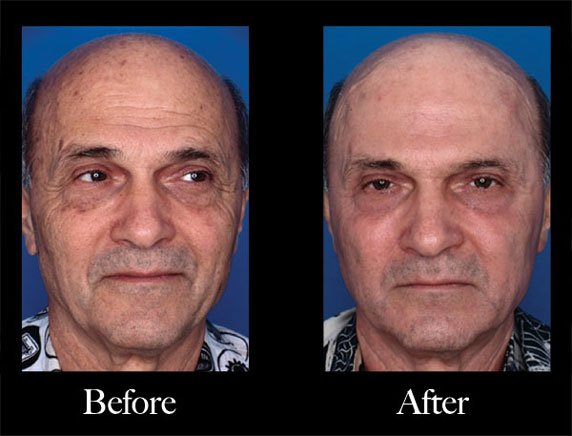 *Individual results may vary
Obagi™ Blue Peel Frequently Asked Questions
Q: What is the Obagi Blue Peel?
A: The Obagi Blue Peel is an in-office procedure designed to significantly improve the appearance and health of your skin. Using tricholoracetic acid (TCA) mixed with a special blue base, the Blue Peel allows us to monitor the appropriate depth to effectively remove the layers of aged and damaged skin from the face or other parts of the body. These dead skin cells are replaced by healthier ones, allowing the skin's own clarity and tightness to resurface.*
Q: What is unique about the Blue Peel?
A: Unlike alpha-hydroxy peels or other superficial procedures, the Blue Peel allows your doctor to control the depth of the peel and the number of coats applied to tailor the process to your skin's specific needs. Plus, the Obagi Blue Peel can be performed on the neck, chest, hands, back, arms and legs.
Q: Am I a good candidate for a Blue Peel?
A: Patients who are unhappy with their skincare results are excellent candidates for Blue Peel treatment. Good candidates do not have skin sensitivity conditions and are not prone to scarring or or post-treatment skin pigmentation. Ideal candidates have not recently undergone acne treatments.
The Obagi Blue Peel treatment is suitable for patients who have received good results from other chemical peel treatments. Healthy patients with realistic goals are excellent candidates.
Q: What should I expect during a consultation?
A: During your consultation, we will listen to your skin concerns and goals. We will examine your skin issues and look over your medical records, including past skin treatments.
We will then recommend a personalized Obagi Blue Peel treatment. The treatment plan will be thoroughly explained, including the treatment cost, the overall process, aftercare, and your potential results. We encourage you to raise questions anytime during your consultation.
Q: How will my skin look after recovery?
A: When your skin has completely finished peeling, you will immediately notice the dramatic results of your newly improved complexion. Your skin's appearance will continue to improve for the next 4 to 6 weeks, becoming firmer, clearer smoother, healthier and more youthful looking.*
Q: What does the procedure consist of?
A: The Blue Peel is a quick, relatively simple and highly tolerable procedure and in most cases, does not require sedation.*
Application of the Blue Peel takes about 20 minutes, depending on the number of coats your doctor has determined are necessary to achieve your goals. You will experience a mild burning sensation that lasts two to three minutes (your doctor may use an electric fan to minimize this sensation). Immediately after the procedure, a bluish tint remains on your skin, which will usually wash off in 12 – 24 hours.* Your doctor can explain the process to you in greater detail.
Q: How long is the recovery?
A: After the procedure, you will experience light swelling, and your skin will begin to peel within 2 to 3 days. This peeling will continue over the next several days and should be healed in an average of 7 – 10 days.*
If you are having a lighter, exfoliative Blue Peel, healing is completed in 3 – 6 days.*
In either case, this peeling should not disrupt your regular lifestyle for long, although you may want to limit your normal activity.
Q: Can I apply makeup after a Blue Peel?
A: Makeup is discouraged right after the Obagi Blue Peel treatment, since certain makeup products may put the patient at risk of complications.
To best aid in the recovery process, makeup should only be applied after the skin is completely healed. Aftercare instructions will include when it will be safe for the patient to use makeup products.
Q: Can the Blue Peel be combined with other procedures?
A: Yes. Your doctor has been trained to combine the Blue Peel with many other procedures you may be interested in. This can be very effective in achieving even more dramatic results in the same time period.* Talk to your doctor about the possible combinations that may be best for your skin.
Q: Can the Blue Peel be repeated for maximum results?
A: Your doctor will tell you how many peels are necessary to give you the desired result. In most cases, one to three Blue Peels can achieve dramatic improvements in many skin problems. The peels can be performed in 6 to 8 week intervals until your desired goals are reached.*
Q: How can I maintain the benefits of the Blue Peel?
A: Keeping your skin's new healthy glow and youthful appearance is an ongoing process. The Obagi™ Nu-derm restoration system is an at-home program designed to promote long-term overall skin health and work safely and effectively in conjunction with the Blue Peel. Ask your doctor for more information about Obagi™ Nu-derm.
Q: How much does a Blue Peel treatment cost?
A: The cost of an Obagi Blue Peel treatment may vary depending on the amount of Blue Peel product used. The overall price may also be impacted by the number of treatment sessions required to achieve the goals of the patient.
Q: What do I do to get started?
A: Take the opportunity to discuss the Obagi™ Blue Peel procedure with your doctor. He or she will help you determine whether the Blue Peel is right for you and give you all the information you need to get started on the road to smoother, healthier, younger-looking skin.
*Individual results may vary